The overall objective was to standardise the booking process for commercial rostered flights, optimise and then transition the process to a more cost effective location while establishing appropriate governance structures and measurement methods. The data quality was a major enabler in execution of the process. So any improvement in data quality was also within scope for this project.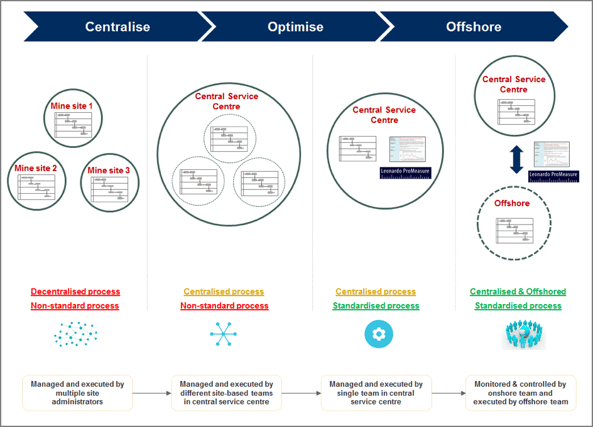 Leonardo Consulting's task was to discover and model all the process variations in regular FIFO rostered booking process and then to co-create the future state process while establishing the governance structures and process measures.
The work started by preparing a high level process model to set the context and then doing focussed analysis of the process within the project scope. Stakeholders were selected for individual interviews to understand the process and followed by group workshops to establish a common understanding of the current state. The current state process models were supported by detailed performance data analysis to bring clarity on the total effort and volume of transactions. This was helpful to clarify the size of the process which was a critical input for future state design.
A theoretical future state process was developed by conducting multiple group workshops. The process was also supported by process measures that were developed using Leonardo ProMeasure™ methodology that identifies specific measures for different stakeholders involved covering various process perspectives like input, output, guides and enablers. A critical part of the analysis was to look for blocks of activities within the process that can be bundled together and transitioned to an offshore location. This was done by critically analysing and identifying relatively independent process components. The knowledge and skills required for each activity was another consideration for deciding on the offshoring components.
With the geographically distributed team there was a need for a robust governance structure for managing operations in the onshore-offshore delivery model.
Leonardo Consulting was actively involved in the project from understanding the current state process to designing the future state process flow, developing process measures and governance structures through to the complete transition of the process to an offshore location and provided continued support in fine tuning the process and the measures during the process transition to offshore.