Centrelink is a complex organisation within the Australian Government. It delivers services on behalf of 27 other agencies in both normal and emergency conditions. Across Australia 27,000 staff support 6.5 million customers. Centrelink's purpose is formally described as: Serving Australia by assisting people to become self-sufficient and supporting those in need.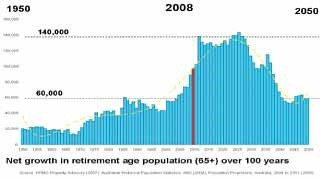 This graph illustrates one of the challenges facing Centrelink. Australia's aging popula- tion will significantly increase demand for Centrelink services. This "grey tsunami" must be managed within Centrelink resource constraints.
Change in the level of national employment is also a key driver for process-based management at Centrelink. The assessment, payment, management and review of programs supporting those seeking employment is a major component of Centrelink's activities. Even small increases in the unemployment rate cause a considerable increase in work throughout the Centrelink network.
A third key driver is the pivotal role that Centrelink plays in times of national emergency such as floods and bushfires. It must respond quickly with people and services in difficult physical and emotional circumstances. If global climate change is to result in more extreme weather events, this will also increase the demands on Centrelink to provide a wide range of services in a timely and efficient manner.
In December 2008, the Centrelink CEO requested more consideration be given to continuous improvement of business processes.
A general framework for Business Process Management (BPM) Continuous Improvement (CI) was endorsed in January 2009, for imple- mentation under the stewardship of the National Quality Committee chaired by the Deputy CEO, Customer Service and Emergency Management. Leonardo Consulting played an important role in assisting Centrelink to operationalise these aspirations.