Facilitating Innovation Program
Initiate, challenge, ideate, converge, prototype & test innovative solutions for your organization
2

Day Business Innovation Training

Workshop
---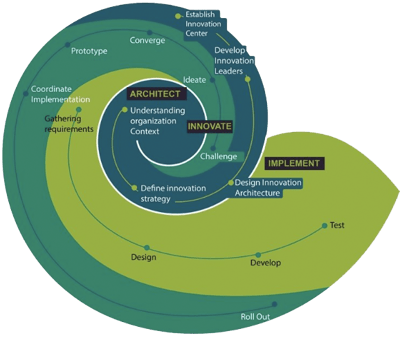 This workshop provides a detailed understanding of each of the building blocks that make up an innovative system, product, service, or a space and strategies for facilitating teams through the innovation process.
A PDI (practical, dynamic and interactive) approach provides practical step-by-step direction including a road map for innovation for your organization and tips for judging the quality of each idea of your innovation challenges, dynamic instruction from carefully selected energetic facilitators, and interactive practice sessions including in-class exercises and team breakout sessions to reinforce your learning.
Who Should Attend This Workshop?
Anyone that is responsible for creating an innovation culture, improvement managers, and excellence managers of profit/nonprofit organizations and government agencies seeking to create an innovation culture.
What Are The Learning Objectives?
Provide a clear view of picture of the key steps in the innovation process
Provide guidelines for prototyping ideas and evaluating their quality
Review the techniques for facilitating a team through the innovation process
Understanding which ideation technique to use in any given situation
Identifying the key tips and pitfalls to avoid twice
Provide practice opportunities to employ the techniques
What You Will Learn
Lead an innovation task force
Define & profile innovation challenges (or an innovation challenge)
Prototype & test innovative solutions
Create an innovation implementation plan
Work through conflict/internal strife